Offshore Outsourcing
Global Delivery Model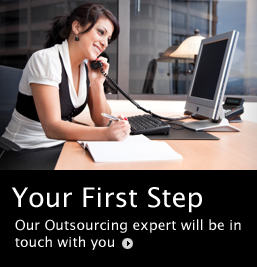 Global Delivery Model
Our global infrastructure is connected via high speed data lines enabling audio, video and other data transfers round the clock. Our onsite professionals are located within the client premises and also at our US centers to help facilitate smooth coordination between the various teams. Following the diagram below is a brief description of our project management and coordination structure along with the various roles taken up by our professionals to make your project a success.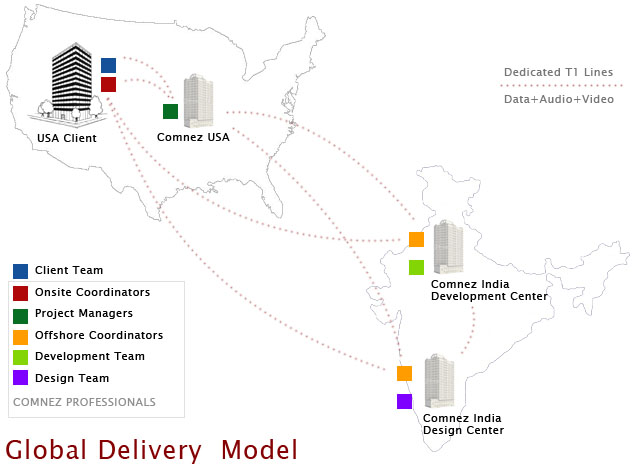 Project Management & Coordination

Based on our combined experience of over fifty years we have identified the following key roles that have to be fullfilled in order to make an outsourced software project successful:
Onsite project coordinator - This is the most important role to be played that facilitates efficient global delivery mechanism. The person in this role needs to be highly skilled in the technologies being used for the project. Along with a high degree of technical knowledge, the person needs to have good communication and must be fully capable of working in a multi-cultural environment. All our project coordinators have worked for several years both in India and in US and are aware of all the challenges faced by both sides of the team. Our project coordinators are constantly trained in the necessary project management skills required for the role. In order to make it easy for you to communicate with this person, we usually deploy a full time coordinator inside your premises.
Onsite project manager - The role of an onsite project manager usually involves maintaining the timeline for the projects and keeping track of the progress. We expect our clients to provide us with a contact at their end, who is responsible for this kind of role. Our onsite coordinators are trained to make it very easy for your project managers to do their part of work. They are provided with detailed project plans and timely project reports.
Offshore project manager/team lead - This person is the offshore counterpart of the onsite project coordinator. A highly technical individual possessing the required project management skills communicates with the onsite coordinator on a daily basis to ensure a smooth flow of project related communication. This individual also acts as a mentor to the rest of the team and guides the project implementation in the right direction.
Development team members - We usually build the development team with varying levels of experience in the field of required software technologies. Our successful team building strategy provides a high level of retention and consistent distribution of knowledge amonth the team members.